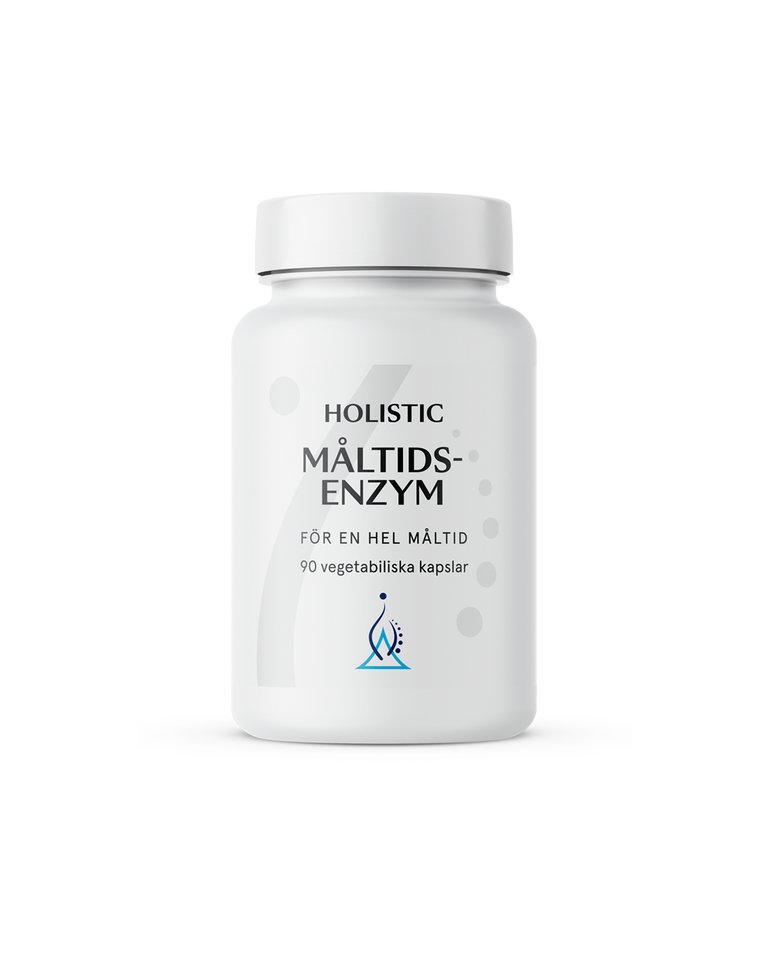 Holistic Meal Enzyme, 90 capsules
Taking digestive enzymes in connection with a meal is one of the best things we can do to help our gastrointestinal health with symptoms such as bloating or an upset stomach in connection with a meal.
Holistic Meal Enzyme contains vegetable digestive enzymes that are taken with meals.

Information
Digestive enzymes are proteins that regulate the chemical reactions that the body uses to break down the food we eat. The enzymes break down the food into nutrients that are small enough to pass through the wall of the small intestine and be absorbed into the blood. There it is then transported through the body to all our cells.

Stress is a common cause of stomach upset. When you are stressed, your body reacts by deprioritizing, for example, digestion and the body's own production of digestive enzymes, something that can give you a bloated or upset stomach. In such periods, it may be valuable to add extra digestive enzymes. The enzymes support digestion and thus help increase nutrient absorption.
Use
Dosage for adults: 1-2 capsules 3 times daily with meals or as recommended.

The recommended dose should not be exceeded. Food supplements should not be used as an alternative to a varied diet. Consider the importance of a varied diet and healthy lifestyle.
Ingredients
Enzymes (according to content list)
Filler (rice bran)
Capsule shell (hydroxypropylmethylcellulose)
Storage
Store dry and cool at room temperature out of the reach of children.
Delivery within 1-3 working days
Holistic Meal Enzyme, 90 capsules