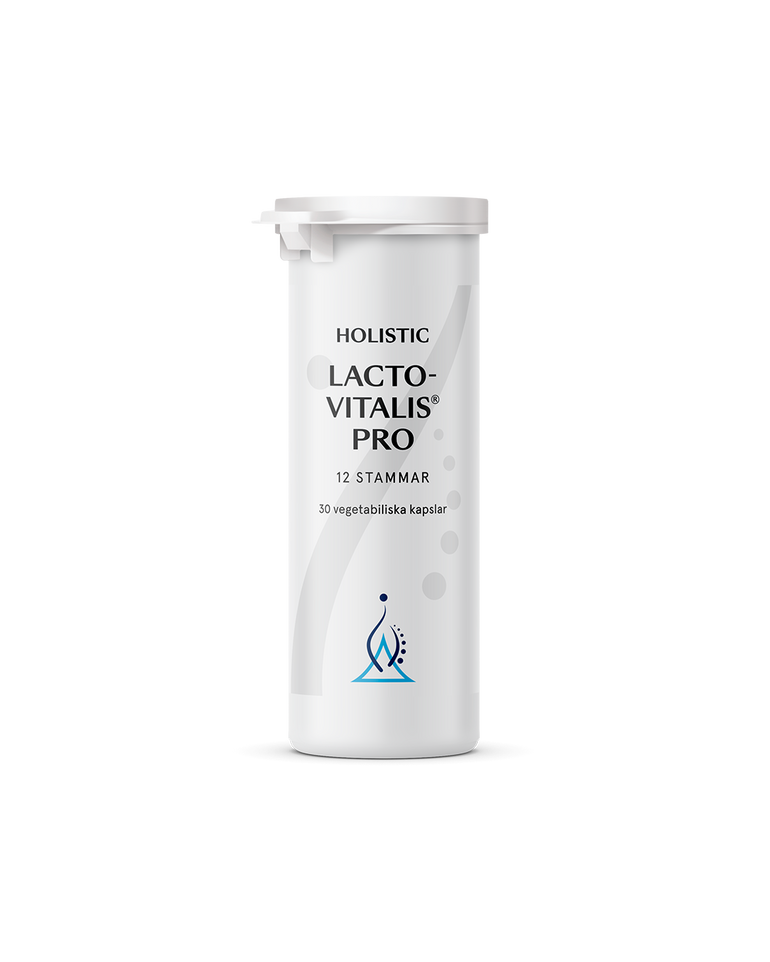 Holistic Lactovitalis Pro, 30 capsules
You have probably heard that up to 80 percent of the immune system is in the gut and a balanced intestinal flora is fundamental for good digestion and health.
Lactovitalis Pro from Holistic is a food supplement with lactic acid bacteria. Each dose provides a supplement of at least 20 billion lactic acid bacteria from 12 different strains. The patented technology means that 90 percent of the bacteria reach the intestine.
Use
Dosage: 1 capsule per day. If necessary, the dosage can be increased to 4 capsules per day.

The recommended dose should not be exceeded. Food supplements should not be used as an alternative to a varied diet. Consider the importance of a varied diet and healthy lifestyle.
Ingredients
FOS (fructooligosaccharides)
Capsule shell (hydroxypropylmethylcellulose)
Lactic acid bacteria (B. lactis 596, L. rhamnosus GG 107, B. longum 113, B. bifidum 112, L. acidophilus 103, Lc.lactis 109, L. casei 105, S. thermophilus 301, B. breve 114, L. plantarum 111, L. paracasei 106, L. salivarius 108)
Soluble fibers from corn dextrin
Filler (cornstarch)
Vitamin C (l-ascorbic acid)
Anti-caking agents (mono- and diglycerides of vegetable fatty acids, silicon dioxide)
Vitamin B2 (riboflavin)
Delivery within 1-3 working days
Holistic Lactovitalis Pro, 30 capsules